Services
We offer two Sunday morning services, 8:00 am service and 10:30 am service, our Small Groups meet at 9:15am.

What do I wear?
That's a good question to ask and the answer is what you feel comfortable in wearing to a worship service. Some people wear their "Sunday best" while most are dressed casually. Come as you are; we are interested in you, not how you dress.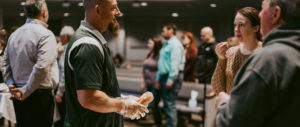 Where do I go? Our church campus can be a little confusing to a first time or even second or third time guest. We have a campus map to help you out. The best place to park is labeled "Visitor Parking" on the campus map. When you go into the building we call the Fellowship Hall, there will usually be someone there to help you out. If you are only coming to our worship service, walk straight through the building to the Worship Center. If you are coming and want to go to one of our Small Group classes (click here for list of classes and where they meet) you can find someone inside the doors of the Fellowship Hall to help you out.