You shall love the Lord your God with all your heart, with all your soul, and with all your mind." It is the privilege and the challenge of our Worship and Music Ministry to lead our church in worship that allows us to worship God with spirit, (our heart), with our intellect, (our mind), to the best of our ability and might, (our soul). To accomplish this we utilize the gifts and talents of our church family to lead our congregation in worship.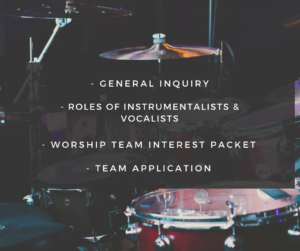 Our Worship Team are the vocalists that assists in leading worship every Sunday at Highland. Participation in the Worship Team begins with membership. Interested vocalists and musicians are auditioned to be a part of the ensemble. This group rehearses weekly on Wednesdays and sings in rotation on Sunday mornings and occasionally for special services. Please email the Worship Pastor if you are interested in becoming a part of the Worship and Music Ministry of Highland Baptist Church.
We also run the Highland School of Music on our campus! We offer private lessons in Guitar, Piano, Drums, and Voice!